Yoga
About Inner Quiet Yoga
Inner Quiet Yoga is a place where you are encouraged to stretch and challenge yourself, unwind and relax, build stronger connections between mind, body and spirit. The studio welcomes anyone with a desire to learn yoga. Classes have a body friendly approach and are supportive of individual needs. The yoga practice at Inner Quiet Yoga cultivates health and well-being, moving you toward integrated balance in all aspects of your life. At Inner Quiet Yoga Anne is joined by other skilled yoga teachers, more information will be available when the new website is up and running: www.innerquietyoga.ca
About Anne as a Yoga Teacher
Anne Ryan received her yoga teacher training through Namaste International and is a registered yoga teacher (500hr) with Yoga Alliance. She brings over twenty years of experience in yoga and dance and the wisdom of her professional practice in aromatherapy, reiki and acupuncture to her teaching. Her study of Integrative Yoga Therapy (IYT 500hr) with Joseph and Lilian Le Page, and recent certification as a Yoga Therapist (C-IAYT) through the International Association of Yoga Therapists (IAYT)  has deepened her commitment to teaching as a path to health and well-being, providing tools to help everyone live a more complete and balanced life.
Spring Schedule: April 9 – June 15, 2018
Fees for Regular Yoga Classes:
The fee per class per season is based on the number of weeks in a term.

Additional classes/ week 10% off term fee
Drop in* fee is $18.00 per 1.5 hr class and $13 per 1 hr class


no classes will be held

Monday May 21



Join any time and the fee will be pro-rated for the remainder of the term.
Fees can be paid by cash/cheque/e-transfer at the time of registration (unless otherwise negotiated).
*Drop in works like this: you are welcome to show up for any class that is appropriate for you and once all of the students who have registered for the class have claimed their floor space, if there is still room put your mat down and stay, if not try again another
day.
Registration:
The best way to register is either by email/phone or in person so that I can confirm that there is space in the class you are hoping to join.
You can also fill out this simple form.
Call (705) 745-7727 or email anne@innerquietyoga.ca or visit us at 383 George St. N., 2nd floor
Please Note: On the first day of class you will be required to fill out or update a registration form with yoga experience and health information on it.
Spring Schedule: April 9 – June 15, 2018
*NEW*

Spring 2018
Balanced Yoga/ Balanced Life
Take time to honour yourself. Whether you feel like you are living through a busy week or needing a boost the make it over the mid-week slump, invite yourself back to balance, centered and rejuvenated! With Sarah McCann Held.
Wednesday 5:15 – 6:45 pm   $160    Cancelled
Release and Let Go
This 8 week class is open to yoga practitioners of all levels. This series, based on the 5 koshas, offers a gentle, stretching physical practice to help you reach and let go of tension, combined with meditations inviting you to locate and release thought patterns holding you down. With Casey Ready.
Tuesday 5:15 – 6:45 pm   $128    Cancelled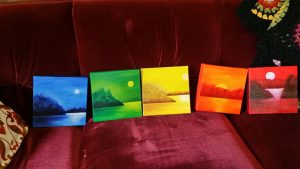 Chakra Series #1
Step off the rainbow bridge and into your practice. Take your chakra yoga practice beyond asana and pranayama with experiential practices to enhance your classes and deepen your understanding of the energy centres. Suitable for teachers and interested students, CE credits. With Anne Ryan and Arlene Dalton.
TBA
Yoga + Creative Movement      
Experience the benefits of movement for body, mind and soul. Yoga to warm up and connect to your body then gently guided explorations of rhythmic, patterned and improvised movement. No experience necessary, just an interest in fun and ease through movement. With Janette Froncz.
TBA

Class Cards
You can create your own yoga intensive, attending as many classes as you like, or adjust your class time to when you are available. Find the class that fits you best! Here are the rules: The card must be used up in the session of issue (eg. the fall session) and there must be space available in the class you want to attend , so please contact the studio to check on spaces.
5 class card (1.5 hour classes)    $80
…plus all of our other classes…
Class Descriptions

The classes at Inner Quiet Yoga accommodate 14 students, which allows for individual attention. Each class begins and ends with relaxation and often includes an insightful or inspirational reading. Classes are thematically based on specific postures or philosophical concepts. The $$ amounts is this colour reflect the fees for the spring session.

Class Registration
[back to top]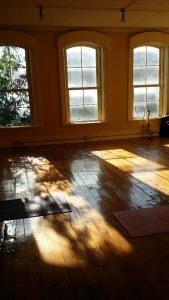 Yoga + Meditation
Moving into stillness. Yoga practice to strengthen and open your body followed by sitting meditation practice. Specific mudras and guided meditation are chosen to support the theme of each practice session.
Monday 8 – 9:30 am $144/Thursday 7- 8 :30 pm $160
Keep Moving Vinyasa Yoga
This gentle approach to vinyasa is a moving meditation to challenge your body and invite integration of mind, body and spirit. This class is suitable for students with a strong foundation in their asana practice. Get ready to follow the flow and sink deep into your practice.
Monday 5:15 – 6:45 pm $144 /Wednesday 7 – 8:30 pm $160

Continue Your Practice Yoga
Build and expand. Hatha yoga beyond the basics. Deepen your practice increasing the range of asana and pranayama. Challenge yourself, creating insight, stamina and energy, strength and flexibility. Explore the underlying principles of yoga to greater depth. Move toward meditation and a yogic lifestyle.
Monday 7 – 8:30 pm $144/Wednesday 8 – 9:30 am $160/Friday 8 – 9:30 am $160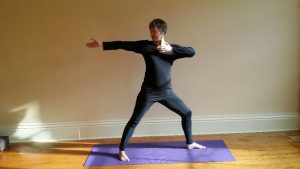 Be Gentle Yoga
Would you like to feel more resilient, able to cope with change, build strength and stamina, move through life with a greater sense of ease and grace? Gentle Yoga, go deeper, find your spirit, reconnect…all levels…all bodies…
Tuesday 2 – 3:30 pm $160

Thursday 10 – 11:30 am $160

Start delayed until April 17 and 19 respectively
Yoga Tonic
A beautiful blend of  yoga, somatic practices, restorative postures and breath. To tone you up, soothe your soul, ease your tension…take your tonic!
Tuesday 7 – 8:30 pm $160/ Wednesday 10 – 11:30 am  $160
Get Started Yoga for Beginners
Introduction to yoga. Begin your path to health and well-being as you learn to relax and unwind the body, increase body awareness and let go of stress. Learn the basics and build a strong foundation in a relaxed and encouraging atmosphere.
Thursday 5:15 – 6:45 pm $160
Lunch With Us Yoga
Add a little AHHH to your work week. These one hour yoga classes are designed to fit into your schedule. This class is open to all levels of practitioners. Create a more balanced life for yourself…less stress, a strong flexible body, a calm mind…you only better.
Friday 12 noon – 1 pm  $110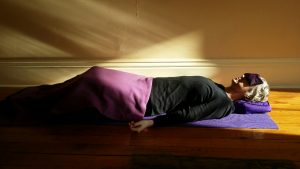 Yoga Nidra
Yoga Nidra means "yogic sleep" or conscious sleeping. The Yoga Nidra process is part of the Tantric tradition, and is developed from an ancient practice called Nyasa. Nyasa means "to place," and in the context of Yoga Nidra, it involves placing the awareness in different parts of the body.
Complete relaxation is often blocked by a busy brain, the process of Yoga Nidra systematically engages the brain at the levels of the subconscious and unconscious, reducing or eliminating habitual thought patterns. As these patterns are released greater health and well-being can be established.
Yoga Nidra is a body centered form of meditation that promotes deep relaxation, stress release and healing.
Friday 4:30 -5:30 pm /$10 per session
Spring Dates: April 13 and 27, May 11 and 25, June 8
Integrative Yoga (IYT)
Learn to live more skilfully. Integrative Yoga (IYT) is a wholistic, personalized approach to yoga. Yoga a is multidimensional practice bringing dynamic balance to t
he physical, energetic, emotional, intellectual and spiritual layers of being. Individual and group sessions combine the tools of yoga (postural assessment, postures, breathing practices, meditation techniques) and Ayurvedic concepts (dosha balancing, diet and lifestyle) to develop a specific practice for each client. Yoga's goal is to deepen