Teachers
        Anne Ryan, E-RYT, C-IAYT, R.A.H.P.
Announcement!
Anne has spent many years working towards professional certification in the newly minted field of yoga therapy. She has recently been awarded the designation of C-IAYT, certified Yoga Therapist (800 hour).

Anne Ryan received her yoga teacher training through Namaste International and is a registered yoga teacher (500hr) with Yoga Alliance. She brings twenty years of  experience in yoga and dance and the wisdom of her professional practice in aromatherapy, reiki and acupuncture to her teaching. Her study of Integrative Yoga Therapy (IYT 500hr) with Joseph and Lilian Le Page has deepened her commitment to teaching as a path to health and well-being, providing tools to help everyone live a more complete and balanced life.
Anne's interest in complementary health care started with a strong interest in maintaining her own health with as little intervention as possible. While working in a health food store in her early twenties, Anne's interest in the healing properties of plants blossomed and she began to study aromatherapy. She shortly set up practice as an aromatherapist and found she enjoyed working with clients, helping to expand their knowledge base. In seeing the growth of her clients Anne was compelled to embark on expanding her own education as well. She chose to pursue the energy modalities of reiki and acupuncture. Yoga and an active interest in Ayurvedic medicine have come to provide a container to hold all of these modalities. Over the last fifteen years Anne has developed a thriving practice at The Yellow House compromised of group yoga classes, individual therapeutically based yoga sessions and wellness counseling, incorporating all of her healing modalities. She looks forward to the challenge of expanding her scope to include Inner Quiet Yoga. Anne continues to actively pursue her education in yoga and healing arts and is always expanding on her healing philosophy.
Anne is a Professional Yoga Therapist, Registered Yoga Teacher, Certified Aromatherapist, Certified Acupuncturist, is a Reiki Master and holds a Bachelor of Fine Arts in dance.
The following is a list of some of Anne's underlying principles and techniques:
stress as the underlying factor in disease
relaxation allows the body to heal itself
health happens as we bring the body back to balance
Yoga and Integrative Yoga Therapy – identify and treat body imbalances, stretch, strengthen, increase focus and concentration, engage the five koshas
Aromatherapy – soothes the senses, relaxes the
body, deepens awareness and promotes healing
Reiki – deep relaxation, energy balancing
Flower Remedies – emotional health and well being
Arlene Dalton – teacher/facilitator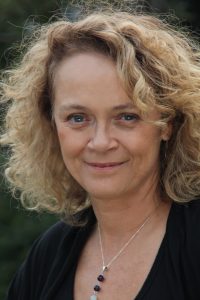 Arlene took her first yoga class over 40 years ago with Irene Beer. Then when she began to have health issues in her 30's it was not surprising that she found her way back to yoga. She was introduced to the teachings of Swami Radha by Jeannie Guillet and as a result spent time at Yasodhara Ashram where she obtained her teaching certification.
With a background in Social Services and Pain Management it was not a huge leap for her to further explore Yoga from a therapeutic perspective. So, in 2003 she took her first class with Integrative Yoga Therapy at Kripalu. Since then she has completed her 500 hr Integrative Yoga Therapy program and is a member of the International Association of Yoga Therapist, attending their conferences as often as possible. She has trained in Mindfulness Based Stress Reduction (MBSR) with Jon Kabat-Zinn and studied with Ray Long, Bo Forbes, Cindi Lee, Leslie Kaminoff and Nischala Joy Devi to name a few.  Her 25+ years of leading groups using a life skills and expressive arts format make her classes and workshops informative, fun and experiential.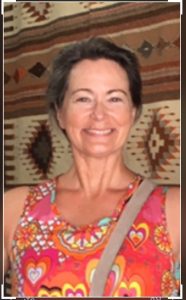 Janette Froncz – RYT 200
Janette is a certified Kripalu and Sivananda yoga instructor with 20 years teaching experience. Revitalizing the body, deepening awareness and nurturing the roots of health in body, mind and spirit is the core of Janette's personal practice and what she endeavours to share as a teacher. "Janette is a superb teacher who's class is welcoming to beginners, healing for those dealing with illness or injury and stimulating and demanding for those who want a challenge." ( Dr. Meg Luxton, Professor, School of Gender, Sexuality, and Women's studies. York University).
With an extensive professional background in theatre and dance Janette shares the benefits of yoga with children of all ages.
     William James – RYT 200
Bill James is certified as a Kripalu Yoga Teacher (200hr).  His background is dance with a career spanning 40 years as a dancer, choreographer and teacher.  His primary interests are in his love of nature, music and of people, where his belief in empowerment guides him as he shares his knowledge through yoga, voice and dance.
Kim McWilliams – RYT 500                          
As a student of yoga for over 20 years, I have been influenced by several great teachers – all of them in the style of Vanda Scaravelli. Vanda says that "yoga should bring freedom to the body, all the freedom it needs."  This method continues to take me deeper into my body and allows me to do the things I enjoy such as gardening, golfing and skiing.  Yoga can take me to a place of stillness and calm and yet revive me with vitality and energy.  It is a wonderfully nourishing experience.
I love teaching, and began 25 years ago teaching fitness and aqua classes.  I continue to teach aqua classes at the Otonabee Inn as well as my yoga classes at Inner Quiet.  As I work with those in difficult or older bodies, I find Vanda's gentle approach is much appreciated by my students.
My yoga teacher training was completed in 2004 with Irene Beer at Namaste International – a 500 hour certification.  I later became the owner of The Humanistic Yoga Centre created by Irene Beer, fulfilling the role of both teacher and owner for 10 years.  During that time I suffered the loss of my mother and my spouse, yet the groundedness of my yoga practice allowed me to approach these experiences with acceptance, courage, gratitude and grace – as well as a sense of humour.  Yoga has been the foundation of my life, and has strengthened my spiritual muscle.  I endeavour to share these gifts in my classes.
Casey Ready – RYT 200
Casey is certified as a registered Yoga teacher (200hr) who graduated from the IYT-YTT (Integrative Yoga Therapy – Yoga Teacher Training) program at Inner Quiet Yoga, a course which seeks to make yoga accessible to all.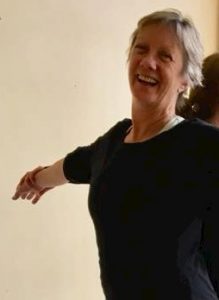 Yoga brings me hope.  I approach yoga with curiosity in discovering ways to expand strength, flexibility and balance in my mind, body and spirit.  My first experience with yoga was as a teenager, learning mostly on my own through books and a retreat at an ashram. I moved away from yoga for many years, as my interests in wellness focused on fitness and running. An injury over 10 years ago brought me back to my mat. Through yoga practice, I discovered I could better face the feelings of loss I experienced following this injury and the awareness it brought to me of my own vulnerabilities and ageing.  I weaned myself from my daily runs, saying that I hoped to live a long life and to be able to walk through it all.  This shifted as I found myself returning again and again to my mat and discovering deeper personal growth, and hope. Yoga opens opportunities where I can vision continuing to learn and grow, literally to my last breath.
I welcome people of all ages in life and stages in yoga practice to join with me on this journey.
Ireni Stamou
Ireni has been teaching Yoga, Barre, and Dance for body mind and spirit in the last 10 years most notably in Costa Rica where she practiced in sustainable living and training. Ireni was senior Yoga Educator and Bodyworker at The Harmony Healing Centre. Dance, Barre and Aerial Yoga teacher at Bodhi Tree Yoga Resort.
Ireni's certifications include Certified Rasa School of Yoga in the Hatha and Vinyasa tradition. Nosara Yoga Institute Self Awakening Yoga therapeutics. Lotus Palm Thai Yoga Massage, Montreal, Restorative Yoga continuing education with Jane Fryer.  Certified Volo Restorative Aerial and Circasana Aerial Yoga. Ireni mentored in somatic education with Nancy Topf: Dynamic Anatomy Embodied Practice in New York and with Dr. Ninoska Gomez in Soma Rhythms Costa Rica.
After a Bachelors of Fine arts degree from Concordia University, Ireni lead a significant career as a Montreal choreographer for 20 years. She toured internationally as a soloist and led a non-profit dance company for 10 years. Ireni first put her hands on a Barre at 9 years old, and if there is no Barre in a studio she is inspired to have one made. For Ireni Barre is an art form where she combines the love for dance, yoga flow, and therapeutics in an engaging and mindful practice that is accessible to everyone.