383 George St N, 2nd floor

705-745-7727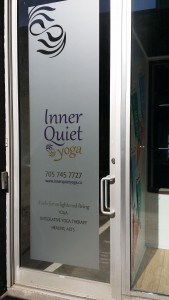 Inner Quiet Yoga
Inner Quiet Yoga is a place where you are encouraged to stretch and challenge yourself, unwind and relax, build stronger connections between mind, body and spirit. The studio welcomes anyone with a desire to learn yoga. Classes have a body friendly approach and are supportive of individual needs. The yoga practice at Inner Quiet Yoga cultivates health and well-being, moving you toward integrated balance in all aspects of your life.
Fall Session Sept 19 – Dec 16, 2016



registration on now!
The Summer Session continues until Sept 2. The following classes are running for the remainder of the summer: Yoga + Meditation Monday 8am and Thursday 7pm, Vinyasa Monday 5:15pm and Wednesday 7pm, Continue Your Practice Monday 7pm, Tuesday 5:15pm, Wednesday and Friday 8am, Older Bones and Bodies Tuesday 2pm, Be Gentle Wednesday 10am, Get Started Beginner Thursday 5:15pm
If you are looking for the class schedule and class descriptions, you've found them! We run our classes seasonally and this information is updated by the session so check in to see what's going on.
Integrative Yoga Therapy 200hr Yoga Teacher Training at Inner Quiet Yoga
These are longer classes and short courses to help you deepen your practice and find your path. Yoga gives us several roadmaps to help us find our way These included the chakra system, the five elements, the five koshas (layers of being) as well as meditation and mindfulness practices. Discover yourself.
Take care of yourself. Book an appointment with Anne Ryan for aromatherapy massage, Reiki or integrative yoga (IYT), a therapeutic approach to yoga practice.
Our depth of practice at Inner Quiet Yoga comes from our teachers. Find out more…