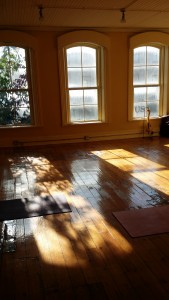 Inner Quiet Yoga is a place where you are encouraged to stretch and challenge yourself, unwind and relax, build stronger connections between mind, body and spirit. The studio welcomes anyone with a desire to learn yoga. Classes have a body friendly approach and are supportive of individual needs. The yoga practice at Inner Quiet Yoga cultivates health and well-being, moving you toward integrated balance in all aspects of your life.
We've Moved!

We are settling into our beautiful new home at 383 George St N, 2nd floor.
Many thanks to all who lent a hand and helped to make this transition as smooth as possible. Remember the Spring Session runs until June 19 and registration is on for the summer session.